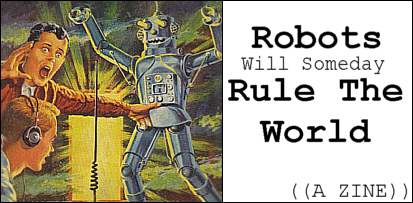 welcome.



09/13/03 If you would like to contribute any writing, email it to me by October 31, so it can be ready to be placed in the December issue.

09/07/03 Issue #2 is officially SOLD OUT. Even though I have yet to begin on Issue #3, I'm hoping to have it out by Christmas.

PS; Someone sent me $2 for a zine in a card with a dancing banana on the cover (nice touch), but I'm a loser and I lost your address! So email me if you are the banana card sender, and I will make things right. Sorry about this.


buy it.




contact.

Email me at thestargerl@hotmail.com or catch me on AIM with "da robot says". I'm usually nice.