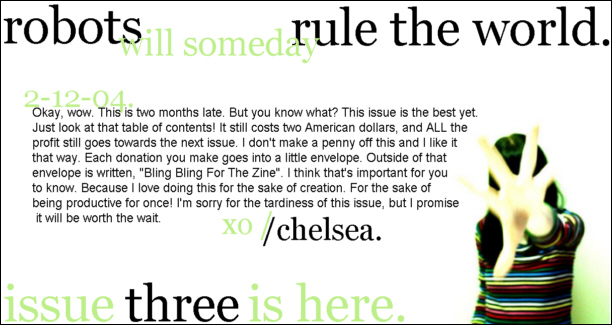 Here's what to expect from issue three:

Amanda and Chelsea's Piece of Rude Advice -- Page 4
The prettiest girls in school are here to help you in your time of need.
Billy Idol, Where Are You? -- Page 5
Ben, everyone's favorite pessimist, whines about today's lack of true rock stars.
Why Do I Love Y.A.C.H.T. and Bobby Birdman? -- Page 6
Chelsea reveals the party vibration within these two electronic bands.
The Most Intelligent Ataris Fans Ever -- Page 11
Landon and Chelsea, elitists to the core, take on the girls at the Ataris show.
I Am In Love With Myself -- Page 12
Chelsea explains why it's healthy to think you're perfect in every way.
The Guide To Your Metrosexuality -- Page 14
Ben teaches you the rules of being a well-groomed, well-dressed straight man.
Requiem For A Binary Star -- Page 16
Jonas shares Part Two of his intense and fascinating short story.
Mystery Mix Review -- Page 20
Kori (from Mates of State) reviews songs without knowing who the bands are.
Listen To "I Wear My Sunglasses At Night" When You Read This -- Page 23
Tyler picks a helpless victim from a Limp Bizkit chat room and talks about surfing mummies.
The Up And Coming -- Page 26
Chelsea shamelessly promotes some upcoming shows at Modified.
There Is No Such Thing As Paragraph Form -- Page 28
Chelsea shys away from her usual sarcastic writing and gets emo for a second.






ATTENTION! I'm very sorry, but I have to raise the price to $3 if you are getting it mailed to you. I underestimated the cost and I will be losing money if I send it for $2. Sorry.

Fill this out, and I'll email you with information on where to send your $3.





Part two of Requiem For A Binary Star, a short story by Jonas Lucafont, is printed in the newest issue.
Part one is found here.





Email : thestargerl@hotmail.com
AIM : da robot says